Agricultural Plastic Welding Repair Kit
$479.95
Part No.:5213
Weight: 11.00 LB
Length: 16.50 IN
Height: 7.50 IN
Width: 13.00 IN
UPC: 694687006372
Accepted Payments:
Visa, MC, American Express, Discover, PayPal
If you are sick and tired of spending a fortune on new plastic parts and waiting for them to arrive, you're in luck. Now, you can repair a lot of those parts with Polyvance's Agricultural Plastic Welding Kit. With this kit, you can start repairing agricultural equipment, tractors, water troughs, harvest crates, radiator, pipes... and the list goes on.
Polyvance's Agricultural Plastic Welding Kit is perfect for repairing broken plastic agricultural parts including...
Tractor hoods.
Water storage tanks.
Spray tanks.
Side-by-side roofs and body panels.
Combine body panels.
Cornhead snouts.
Corn chutes.
ATV fenders.
Fuel tanks.
Radiators.
Over-flow tanks.
ABS pipe.
Harvest totes.
Snowmobile hoods.
Poly tanks.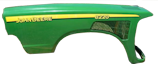 You only get what you need.
The contents of this kit include the welding rods most often used in farming and agricultural equipment. The welding rods that are included are included for a reason. We left out the welding rods that you will never use and doubled down on the welding rods you will use. For example, we have never seen agricultural equipment made of polyurethane, so we left that out. However, low-density polyethylene (LDPE) is used a LOT, so this kit includes a LOT of low-density polyethylene. Not only that, but we know people are proud of the John Deere green equipment, and we also know that John Deere equipment uses a lot of polycarbonate, so we included a lot of green polycarbonate welding rods.
Price vs. Value
We have a price for this kit, but we can't put a value on it... only you can do that! But, imagine the time and money you will save when you make a repair quickly and get back to work. No more waiting and waiting and waiting for overpriced parts to arrive. This kit may very well pay for itself the first time you use it.
Ease of Use
You don't need to feel intimidated with plastic repair. Sure, it appears to be overwhelming with all of the ID symbols and different materials, but it's not. Our website is loaded with information to help you identify and repair your broken plastic parts. Not only that, but our "video section" has plenty of how-to videos to get you up and running in no time. If you are not near a computer, download the Polyvance app on your phone. With the knowledge gained from our site, videos and app, plus a little bit of practice, you will be repairing broken plastic parts confidently without any hesitation or confusion whatsoever.
Video:
Included Contents (Click or tap to expand)

This isn't some stripped-down kit. There is a LOT included. Just look at everything that is included in the Agricultural Plastic Welding Kit

Image
Qty
Part No. and Description
More Info
1
6055 - Hot Air Plastic Welder
1,600 watt, variable temperature AND variable flow. This makes quick work when welding long beads.
1
6012-P - Airless Plastic Welder
Use this to bury reinforcing mesh into plastic and smooth out welds.
1
6027HT - Standard Welding Tip
This tip goes into the airless welder and allows you to feed 1/8th inch rod to melt it.
1
6031 - Flat, Tear-Drop Shaped Welding Tip.
This tip goes into the airless welder to smooth out welds and to bury reinforcing mesh into plastic.
1
2045W - Stainless Steel Reinforcing Mesh
Cut a piece to span a crack about 3/4ths of an inch on each side and melt it down into the plastic. It's like putting rebar in concrete.
2
5003-01 - Welding Rod Organizer Case
These keep your welding rod organized and labeled so you know which rod to select and which rods to reorder.
1
PART2 - Welder stand
Prop up your airless welder on this stand (when you are not using it) to prevent burning anything.
15 ft.
Polypropylene, 1/8" diameter, black welding rod.
Fuel tanks, radiator shrouds, battery cases, pallets.
15 ft.
Polypropylene ribbon, 3/8" x 1/16", black welding rod.
Fuel tanks, radiator shrouds, battery cases, pallets.
15 ft.
ABS, 1/8" diameter, black welding rod.
Instrument panels, grilles, interior plastics.
5 ft.
ABS ribbon, 3/8" x 1/16", white welding rod
Instrument panels, grilles, interior plastics.
15 ft.
Polyethylene, 1/8" diameter, natural colored welding rod
Water tanks, sprayer tanks, ATV fenders, gas tanks, harvest totes
15 ft.
Polyethylene ribbon, 3/8" x 1/16", natural colored welding rod
Water tanks, sprayer tanks, ATV fenders, gas tanks, harvest totes
15 ft.
Polyethylene ribbon, 5/8" x 1/16", natural colored welding rod
Water tanks, sprayer tanks, ATV fenders, gas tanks, harvest totes
15 ft.
Nylon, 1/8" diameter, natural colored welding rod
Radiator tanks, plastic engine parts, exterior trim parts.
5 ft.
Nylon, 3/8" x 1/16", natural colored welding rod
Radiator tanks, plastic engine parts, exterior trim parts.
10 ft.
Polycarbonate, 1/8" diameter, green
Tractor hoods and exterior panels
10 ft.
Polycarbonate ribbon, 3/8" x 1/16", green
Tractor hoods and exterior panels
10 ft.
Polycarbonate, 1/8" diameter, Natural (clear)
Tractor hoods and exterior panels
10 ft.
Polycarbonate ribbon, 3/8" x 1/16", Natural (clear)
Tractor hoods and exterior panels
10 ft.
PBT, 1/8" diameter, Black welding rod
15 ft.
High Density Polyethylene (HDPE), 1/8" diameter, Natural colored welding rod
Overflow tanks, storage tanks, gas tanks, kayaks
15 ft.
High Density Polyethylene (HDPE) riboon, 3/8" x 1/16", Natural colored welding rod
Overflow tanks, storage tanks, gas tanks, kayaks
10 ft.
Polypropylene + 15% Glass Fibers, 3/8" x 1/16", Black welding rod
High Resolution Image (opens in a new tab/window)
plastic water tank welding machine URE5213 POL5213 polytank repair kit, john deere hood repair, pesticide tank repair kit, water tank patch kit, ag welder ag kit URE5213 URA5213 694687006372 B08BT7P9C8 sku 5213 Agricultural plastic weld kit #5213 UR5213 POL5213 URT5213 URT-5213 PLY5213 POL 5213 US-5213 PV5213 poly tank kit poly welding kit agraculture kit UPC694687006372 URE-5213 Agricultural Plastic Welding Kit