Bumpersmith 2.0
Part No.:6071
Weight: 160.00 LB
Length: 32.00 IN
Height: 47.00 IN
Width: 21.00 IN
UPC: 694687005450
Accepted Payments:
Visa, MC, American Express, Discover, PayPal
This item has been discountinued. You cannot order this product. This item is no longer available. This item is presented for historical information purposes and technical support purposes only.
Bumper Smith 2.0
Nitrogen Plastic Welder and Bumper Workstand Combo Unit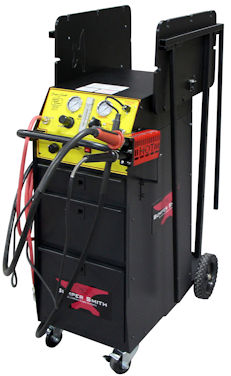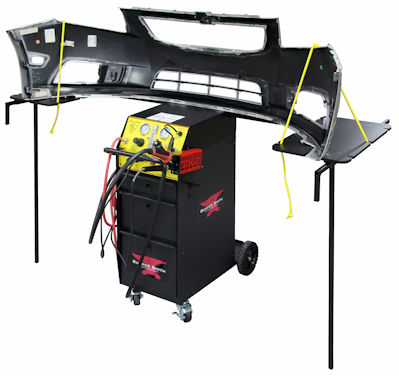 The 6071 Bumpersmith 2.0 offers a unique combination of capabilities in one compact unit. It has a state-of-the-art nitrogen plastic welding system combined with a clever bumper workstation which allows the technician to hold the bumper in just about any position for easy repair work.
The nitrogen welder features a switch in the handle to help conserve bottled nitrogen gas; easily actuated by the palm of the technician's hand, the welder only flows nitrogen gas when needed. Otherwise, the heating element is kept cool with the shop's compressed air. The easy-to-understand analog control system features output pressure gauges for both air and nitrogen and a flowmeter for repeatable performance.
As a workstation, the Bumpersmith 2.0 easily folds out to hold any size bumper, from Chevy Sonic to Chevy Tahoe. The bumper pads are notched allowing for the bumper to be held down easily with the included bungee cords. Using the extension rods, the bumper can also be held in a vertical position to allow repair on the ends. The bumper pads can also hold headlights securely for repair by one technician. When finished, the bumper pads and supports affix to the sides of the Bumpersmith 2.0 for compact storage.
Video:
Features:
Integral bumper workstation
Analog flow gauge for easy setup and repeatable performance
Nitrogen trigger in handle to preserve bottled nitrogen gas
Element protection circuitry to help prevent burning out heating elements
Precision flow regulator for fine welding gas control
Heavy-duty welder cabinet with three drawers for welding rod and tool storage
Includes nitrogen bottle regulator, hand seamer tool, aluminum tape, and welding rod assortment -- everything you need to start repairing right away
Integrated airless welder control to allow for repair of thermoset PUR
Repositionable welding torch holster
Easily replaceable heating elements
Specifications:
Voltage: 110V/60Hz
Inlet air pressure: 80-100psi (5.5 - 6.9 bar)
Nitrogen bottle required
Net weight: 141 lb (64 kg)
Shipping weight: 160 lb (73 kg)
Folded dimensions: 21"w X 32"d X 47"h (53cm w X 81cm d X 120cm h)
Extended dimensions: 84" w X 32" d X 37" h (215cm w X 81cm d X 120cm h)
UPC: 694687005450

RELATED PAGES