Auto Body Bag - Large (7.5 in. X 7.5 in.)
$72.95
Part No.:6450
Weight: 3.50 LB
Length: 7.50 IN
Height: 2.00 IN
Width: 7.50 IN
UPC: 694687005870
Accepted Payments:
Visa, MC, American Express, Discover, PayPal
Auto Body Bag - Large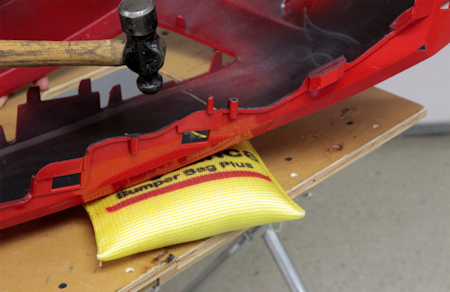 Polyvance's 6450 Auto Body Bag is a versatile tool that works in many different areas of the body shop. Use it to take small dents out of plastic bumpers and sheet metal, adjust the fit of adjoining sheet metal panels, and even use it to cushion a jack saddle to eliminate the risk of damage to the subframe.
Auto Body Bag is made from 70,000 pound tensile strength webbing and is practically indestructible. However, it is also soft enough to conform to the shape of whatever it is pressing up against. This allows it to take the energy of the force and prevent further damage to the area.
Features:
Soft and pliable - conforms to the shape of the panel
Made from 70,000 pound tensile strength webbing - extremely tough and practically indestructible
Conforms to the shape of whatever it is pressing up against to eliminate damage to body panels
Benefits:
Use as a soft dolly
Minimize use of filler by removing small dents in plastic bumpers and sheet metal parts
Helps to adjust panel fit - for example, place near the hood hinge to gently persuade the sheet metal into alignment
Helps to adjust twist in doors for a better fit with quarter panel
Cushions jack saddle to prevent damage to sheet metal of subframe
Versatile
Video: Auto Body Bag Uses (Click or tap to expand)
Video: How to Use Body Bag (Click or tap to expand)
Specifications:
Length: 7.5" (19 cm)
Width: 7.5" (19 cm)
Height: 2.0" (5 cm)
Weight: 3.5 lb. (1.6 kg)
High Resolution Image (opens in a new tab/window)
URE6450 POL6450 bumber bag, bumber, bumper, dent removal, bumperbag, bumber bag plus, 60450, 645o, bean bag, bag, URA6450 694687005870 B075RHJHQ9 sku 6450 UR6450 POL6450 URT6450 URT-6450 PLY6450 POL 6450 US-6450 PV6450 UPC694687005870 URE-6450 PLV6450 PLV-6450
RELATED PAGES
Products related to Auto Body Bag - Large (7.5 in. X 7.5 in.) :
Auto Body Bag Set Polyvance's 6450S
$159.95
Bumper Dent Removal Rollers Kit Bumpers a
$139.95