"What is plastic bumper recycling?"
Bumper recycling is another term for "bumper reconditioning". Bumper recyclers get repairable, broken bumpers from body shops, repair them at their bumper shop, and then sell them back to body shops. Bumper recycling was once a thriving industry that saved insurance companies and consumers a lot of money compared to buying a new, OEM bumper cover.
Most bumper recyclers have gone out of business because OEMs were "price matching" the prices of reconditioned bumper. Afterall, why buy a used, reconditioned bumper cover when you can get a new, OEM bumper cover for the same price. Not only were OEMs price matching, but they are/were charging a "core charge" of up to $75! This "core charge" took off the market a lot of good, repairable bumpers.
"These bumpers are piling up and no one is taking them anymore. What do I do with them?"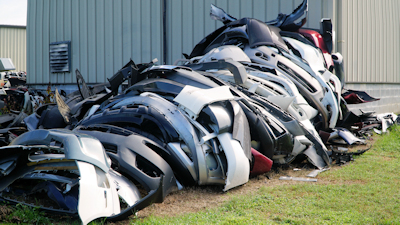 Now that bumper recyclers (for the most part) have been put out of business, damaged bumper covers are piling up at auto body shops. When bumper recyclers were around, they would pick up the repairable bumpers and also the unrepairable bumpers as a courtesy.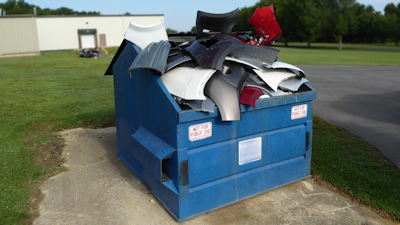 Body shops must now dispose of bumper covers in the dumpster and send them to the landfill... IF the landfill will take them. To get the bumpers to fit into the dumpster, body shop owners must pay one of their employees (who could be making the shop money) to cut up bumpers. Not only that, but you will probably have to get a larger dumpster or have it emptied more often. How much does that cost?
Is there a market for scrap plastic bumper covers?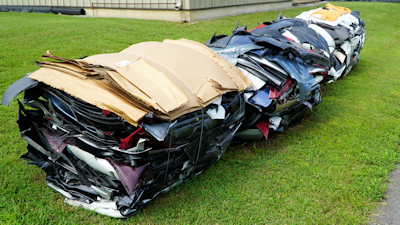 There is a market for scrap bumper covers. Scrap plastic bumper recyclers will buy your bumpers if the bumpers meet the following conditions:
The bumpers must be baled.
Even a used 72-inch wide baler will cost about $6,000. Do you have the space for one?
Must be polypropylene.
Be careful not to mix in urethane bumpers or ABS grilles in the bale!
No metal in the bumper.
How much does it cost you to pay someone to remove clips, rivets, and bolts?
Must be a trailer load.You need a flatbed trailer load of baled bumper covers before they'll get picked up. That's about 4,700 bumper covers. Do you have the space for 32 bales of bumpers? Do you have a forklift to load the trailer?

Does anyone pick up my scrap bumper covers for recycling?
We don't know of anyone who picks up scrap bumper covers for recycling. The scrap value of plastic is not enough to make it economically viable to collect, de-metal, and bale bumper covers. The ONLY way it would be economically viable is if auto body shops were willing to pay to have their bumper covers picked up.
How can I recover the disposal fee if I get charged to have the bumpers hauled away?
When you get new tires or have your oil changed, you usually get charged some kind of disposal fee. The fee to have the bumpers hauled away for recycling could be added to the repair estimate.
How much would you be willing to pay?
Please complete our survey. We may begin collecting scrap bumper covers for recycling if it looks like it is economically viable.