Sensor Hole Cutting Kit
$299.95
Part No.:6149
Weight: 3.00 LB
Length: 9.00 IN
Height: 1.50 IN
Width: 3.00 IN
UPC: 694687006297
Accepted Payments:
Visa, MC, American Express, Discover, PayPal
Polyvance's Sensor Hole Cutter Set lets you cut perfectly round holes into new and aftermarket bumper covers. The newly-created, parking-distance sensor holes are cut cleanly with a perfectly finished edge. Polyvance's sensor hole cutters have a sharp-edged cutter that slices through the plastic and won't stretch and warp the plastic.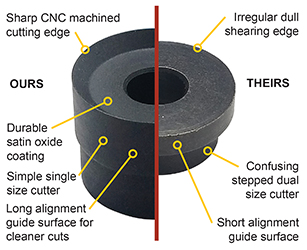 Because the dies are threaded already, you don't need two wrenches. 6 hole sizes: 16mm, 17mm, 18mm, 19mm, 22.5mm, 27mm.
Quit using a stepped drill bit. Polyvance's quality and well-thought-out design makes it way easier to use than a lot of the sensor hole cutter kits out there. Most other sensor hole cutter kits rely on some clunky dies and punches that must be flipped over in the correct order to cut the hole. Their so-called "cutter" doesn't have a sharp edge to cut the plastic. Instead, the plastic is stretched until it breaks as it gets jammed into the die leaving the bumper stretched, warped, and dimpled. Not only that, but cutting a hole requires four pieces... a bolt, a "cutter" (if you want to call it that), a die, and a nut. All of these pieces must be stacked in a convoluted way to even get started. (And, you ARE going to drop pieces trying to stack them.) Plus, you are going to need two wrenches... one to drive the bolt and one to hold the nut.
Features:
Cutters for most popular sizes of parking sensor holes.
Compact tool organizer case.
Precision, CNC-machined, European tool steel cutters.
Benefits:
Cuts sensor holes cleanly without any distortion or warping.
Only one wrench needed to cut sensor holes.
Sharp-edge cutter won't dimple the bumper cover.
Each cutting tools cuts only one size for simplicity and ease of use.
Product Contents:
6 holes sizes: 16mm, 17mm, 18mm, 19mm, 22.5mm, 27mm.
1 drill bit.
Carrying case
Videos:
Instructions:
Step 1
Unscrew the bolt.
Step 2
Remove the cutter from the die.
Step 3
With the included drill bit, drill a hole that is centered where the sensor will be installed.
Step 4
Place the die on one side of the bumper and the cutter on the other side of the bumper and align the die and the cutter with the hole that you just drilled.
Step 5
With your fingers, insert the bolt through the cutter, the bumper, and into the die and screw in the bolt finger tight.
Step 6
With a ratchet, a box-end wrench, or an impact wrench, tighten the bolt until the plastic is cut completely.
Step 7
Push the sensor hole cutter assembly through the hole that you just created.
Step 8
Dissasemble the cutter assembly and remove the plastic from the die.
High Resolution Image (opens in a new tab/window)
URE6149 POL6149 bumper sensor hole punch senser hole cutter parking sensor cutter URA6149 694687006297 B085426P8Q sku 6149 UR6149 POL6149 URT6149 URT-6149 PLY6149 parking sensors POL 6149 US-6149 PV6149 UPC694687006297 URE-6149