Kenworth W900 Hood Repair Kits Released
February 21, 2019 by Polyvance
Polyvance Releases Two New Kenworth W900 Hood Repair Kits
Polyvance is proud to announce the immediate availability of two new hood repair kits for the Kenworth W900. The Kenworth W900 hood is made of non-reinforced thermoset Metton (DCPD) material and the pockets where the hood alignment pins are mounted are notorious for breaking out. A replacement Kenworth W900 hood can cost thousands of dollars. Our kits are priced at $529.95 and are easy to install and create a repair that is stronger than the original.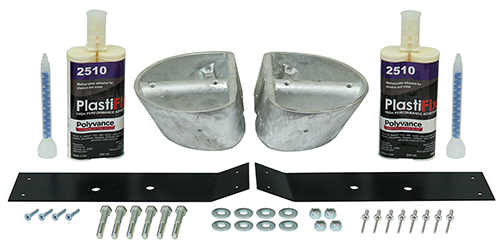 KENW900R for hoods with round hood pockets
Kenworth W900 trucks can have either "square" or "round" hood pockets. Polyvance has a repair kit for each of them. The repair kits each come with one pair of custom-cast aluminum hood pocket reinforcement plugs, one pair of steel reinforcement plates, two packages of PlastiFix High-Performance methacrylate adhesive, and all of the required nuts, bolts, rivets, washers, and screws to perform the repair. All components are designed and manufactured in the USA.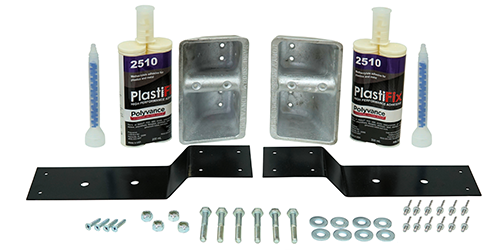 KENW900S for hoods with square hood pockets
Our Kenworth T800 hood repair kit has been a top-selling product for our company, and after receiving numerous calls about the W900 hoods, we decided to create these repair kits, too. All of our Kenworth hood repair kits can be found here: https://www.polyvance.com/Kenworth-Hood-Repair-Kits/.