Bumper & Cladding Color Coat
Permanently recolor faded and scuffed plastic bumpers and trim
You know those parts like bumpers, side cladding, and trim where the color is "molded-into" the part? These "molded-in-color" parts are found on many of today's cars, trucks, and SUV's. Anyway, they quickly start to look pretty sad. They fade in the sun; they scuff and mar easily; they even begin to develop "tiger-stripes." Even the appearance of brand-new cars can be compromised if wax or compound gets down into the texture.
Bumper & Cladding coat permanently recolors the faded, marred, and soiled plastic. It's not a silicone-based product that puts down a quickly-fading shine on the plastic. It is an advanced solvent-based coating that sticks to the surface like glue, permanently recoloring it.
"I'm a mobile technician who uses your Bumper & Cladding Coat to restore the finish of textured plastic bumpers. I had a customer who had a Jeep Wrangler. The flares had been painted with some other glossy black paint'it looked terrible. He wanted me to strip the paint off and re-do it. I removed the old paint with some thinner, cleaned it with the Super Prep, then sprayed on the 3718 Honda Black Bumper & Cladding Coat. When the customer saw the finished job, he said "I thought you were going to repaint the flares, not replace them!" The flares looked so good, the customer thought they were brand new!"
Kent Buehrer
Tremont, IL
Sticks to plastic without sanding or adhesion promoter
Don't worry about sanding the texture or using troublesome adhesion promoters. Bumper & Cladding Coat is designed to stick to the plastic right out of the can. Just clean the bumper and shoot the Bumper & Cladding Coat on. Not even a pressure washer can blast it off.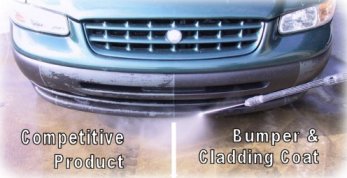 Holds up to a pressure washer
Match the color of virtually any bumper with the mixable tinting system.
Bumper & Cladding coat is available in eight popular pre-mixed shades or in six base toners that can be custom mixed to match virtually any OEM plastic bumper cover.
Bumper & Cladding Coat is just packed with benefits like...
· Permanently recolor faded, scuffed, marred, discolored, or damaged plastic bumpers, side cladding and trim.
· Sticks to plastic without sanding. You do not need adhesion promoter and you do not need to apply a primer. Just clean the part and shoot!
· Sticks like glue! A pressure washer can't blast it off!
· Custom blend to match virtually any color, or choose from one of many popular pre-mixed shades.
· It's economical! One quart of Bumper and Cladding Coat is enough to cover both bumpers and all the side cladding on even the biggest SUV.
"I've been doing mobile restorations for over a decade... interior and exterior. I've been doing textured bumpers with (brand S) for years, but now that I've tried Bumper and Cladding Coat. I'm throwing all that stuff in the garbage. Bumper and Cladding Coat has awesome color matches, hides great, and sticks like glue. I've already made a bunch of money with it! "
Dave Henry
Custom Restorations
Camanche, IA
How to apply Bumper and Cladding Color Coat
· Clean plastic first using 1020 Scuff Magic Prep Soap and water. Dry completely, then clean with 1000 or 1001 Super Prep plastic cleaner.
· Bumper & Cladding Coat will settle over time. Shake or stir thoroughly prior to using.
· Bumper & Cladding Coat is ready to spray right out of the can. Spray one to two light coats with an HVLP or conventional gun with 1.2-1.4 mm nozzle.
· Bumper & Cladding Coat is not a texture spray. Use Polyvance's 3802 Microtex or 3803 Flextex VT to simulate texture, then topcoat with Bumper & Cladding Color Coat.
Products Suggestions
Error (3718-A)