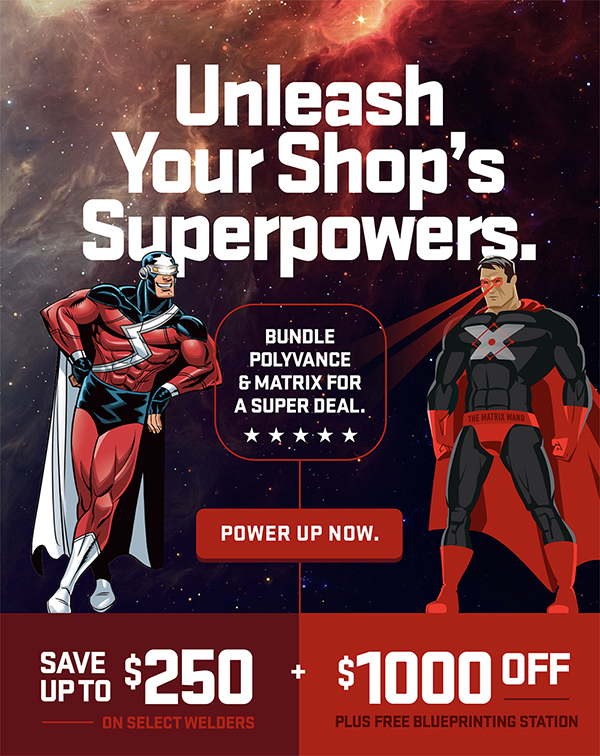 Promotion Rules:
This cross-promotion is intended to reward those shops which purchase both tools between October 12, 2020 and December 31, 2020.
To qualify for the Polyvance rebate, the shop must show Polyvance proof of purchase of both the Matrix Wand and a Polyvance 8202 or 8203 Nitro-Fuzer nitrogen plastic welder between the dates shown above. Polyvance will verify purchase of the Matrix Wand with the manufacturer. You may purchase the Polyvance equipment through your favorite distributor and submit your invoice as proof of purchase.
Assuming the shop qualifies for a rebate per the above paragraph, Polyvance will write a check directly to the shop for the purchase of either an 8202 or an 8203 model Nitro-Fuzer welder. The rebate paid shall be $150 for the purchase of an 8202, or $250 for the purchase of an 8203. Polyvance will pay all rebates before January 31, 2021.
This rebate offer is only valid on the purchase of a Polyvance 8202 or 8203 welder. Other welders (8002, 8003, etc.) will not qualify for a rebate.
Submit proof of purchase to Kurt Lammon of Polyvance by email to kurt@polyvance.com, or by calling him at 800-633-3047.