13 Hours of I-CAR Credits
March 09, 2017 by Polyvance
PR-02 Plastic Repair Course is Good for 13 Credit Hours
In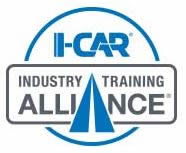 December 2006, Polyvance began a 2 day plastic repair "boot camp" at our factory in Rainsville, AL. Originally, this class was intended to get new bumper recycler technicians up to speed quickly. Over the years, more "non-recyclers" wanted to take the course. The course material was modified so that it focused on the needs of body shop technicians. We continued to refine and improve the course to get approved for I-CAR credits.
In February 2017, our 2-day Complete Course on Plastic Bumper Repair was approved for 13 hours of I-CAR credits!
You can get all the details on this exciting course by clicking here.