6049-C Nitro Fuzer Lite Product Release
July 02, 2018 by Polyvance
Polyvance is proud to announce the immediate availability of our new the 6049-C Nitro Fuzer Lite. With an MSRP of $1,995.00, this welder is our most accessible nitrogen plastic welder.
Polyvance has been hard at work since 2006 pioneering this new repair technology in the collision repair market. We've trained a lot of people on it along the way. Now that the technology is fairly well established, some shops are not looking for training, but for the best price. The 6049-C is a great option for budget-minded body shops because, despite its low price, it remains fully-capable.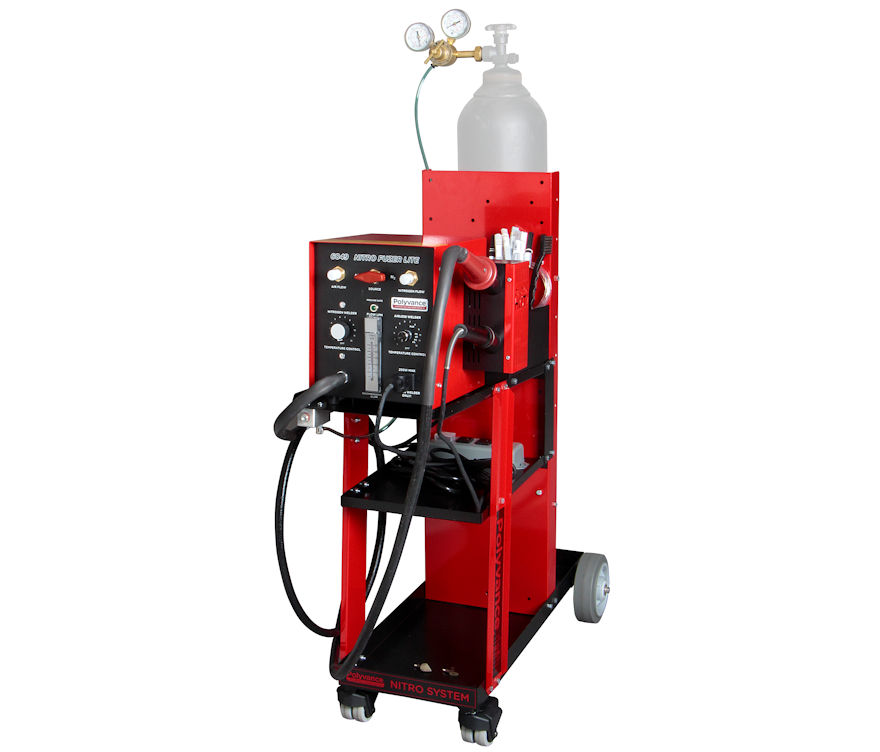 The 6049-C Nitro Fuzer Lite
In order to get the cost of the Nitro Fuzer Lite down, we had to make a few changes:
There is a manual switch between air and nitrogen gas
The cart requires assembly by the end user. The welder ships by UPS Ground in two boxes
The welder does not come with free courtesy training. It includes a sheet of handy QR codes which your technicians can scan with their smartphone for instant, on-demand video training.
However, the Nitro Fuzer Lite does have several user-friendly features that are found on our more expensive welders:
Automatic low-flow cutoff to prevent heating element burn-out
Precision flow control on both air and nitrogen sides to allow for welding anything from super-thin tabs to heavy truck side panels
Analog flow meter for repeatable welder setup
13 types of plastic welding rod enabling repair to virtually any automotive plastic, including thermoset polyurethane
Quality made in USA nitrogen bottle regulator
Heavy-duty, made in USA construction
The 6049-C Nitro Fuzer Lite product page can be found at this link: https://www.polyvance.com/Nitrogen-Welders-1/6049-C/
If you want the more advanced features like automatic air-nitrogen switching, or a nitrogen generator, check out our 6085-C and 6080-CG nitrogen plastic welders.
Watch Our Informative Video on the 6049-C:
Learn How to Set Up and Use the 6049-C: