Polyvance Releases New Agricultural Plastic Welding Kit
June 15, 2020 by Polyvance
Polyvance Releases New Agricultural Plastic Welding Kit
We get calls all the time from farmers around the country wanting to repair their cracked tractor hoods or broken sprayer tanks. Farm equipment has all sorts of plastic parts, they're easily damaged, and they're expensive to replace.
To help keep the agricultural economy moving, Polyvance is happy to announce the new 5213 Agricultural Plastic Welding Kit, the first all-in-one kit designed for general agricultural plastic repair. The kit includes both a hot air welder and an airless plastic welder, with a wide variety of plastic welding rods suited to common agricultural plastics.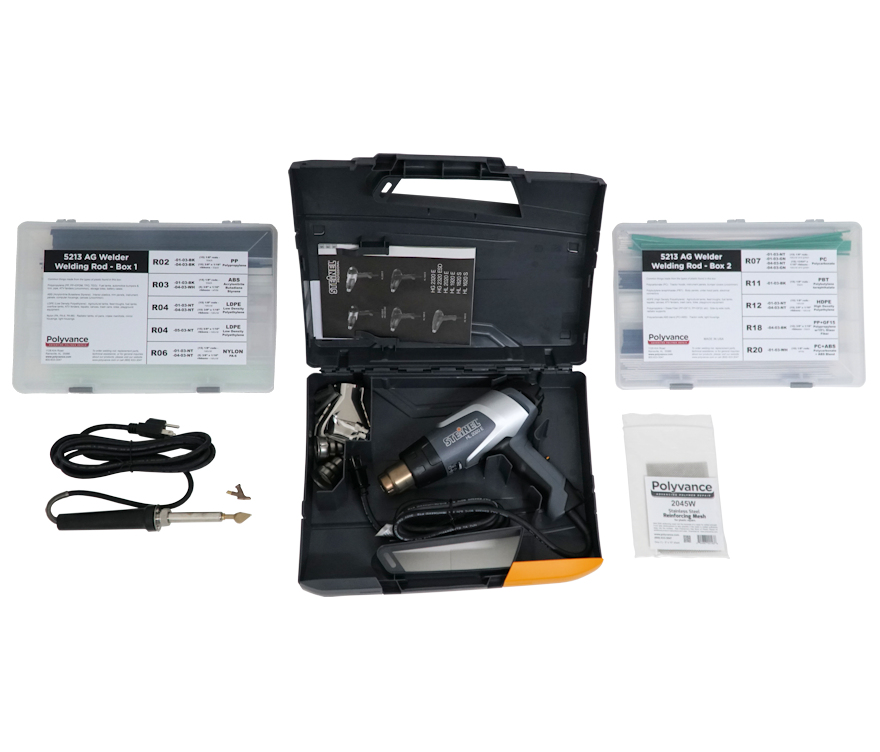 For example, the popular tractor brand with the green hoods? We have color-matching polycarbonate welding rod in both round and flat ribbon profiles to repair these expensive parts. The kit includes a wide variety of polypropylene and polyethylene welding rods to repair fuel tanks, sprayer tanks, water troughs, and cornhead snouts. Nylon is included so you can repair cracked radiator tanks. You even get Polyvance's exclusive glass fiber-reinforced polypropylene rods for repairing UTV and side-by-side roofs and floor panels. The 17 different varieties of welding rods are stored in two included plastic organizer cases.
The 6055 Hot Air Welder which is included in the kit has adjustable temperature and flow control and does not require compressed air for greater ease of use out in the field. The robust 6012-P airless heating element comes with both the feeder tip and the flat tip so you're ready for any kind of repair work. The flat tip is perfect for sinking the included stainless steel wire mesh into the damaged plasitic to reinforce it.
The suggested User price for this kit is only $449.95, far less than the cost to replace just a single plastic component on your farm equipment. And this is a tool you'll be able to use for years and years, saving you money with each use and keeping your equipment out in the field, producing for you.
Get more information about the 5213 Agricultural Plastic Welding Kit at this link, or call 800-633-3047 to place an order for this new product today.