Three New Welding Rod Materials Now Available
September 03, 2019 by Polyvance
Three New Welding Rod Materials Now Available
As the only company in the industry which promotes fusion welding as the best way to repair plastics, Polyvance has a special responsibility to provide new plastic materials and welding rods to repair the latest plastics. In response to industry and customer demands, we are happy to announce three new welding rod materials.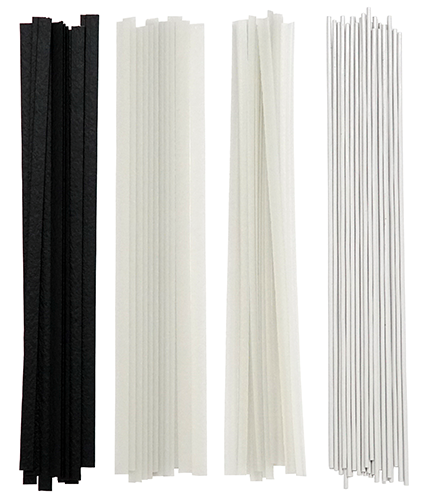 Left to right: R18 PP+GF15 flat strips, R19 HDPE+GF15 flat strips, R19 HDPE+GF15 corner rod, and R20 PC+ABS round rod.
R18 is a polypropylene reinforced with 15% long glass fiber. This material is now used on some radiator supports and other support components. The R18 only comes in the -04 (3/8" wide flat ribbon) profile and can only be used with the nitrogen plastic welder. R18 is only available in black. It may be used to reinforce the backside of welds on unreinforced PP materials. The R18 is available in 30 ft. and one-pound packs (R18-04-03-BK and R18-04-04-BK part numbers, respectively).
R19 is a high-density polyethylene reinforced with 15% long glass fiber. Although we haven't seen it used on passenger vehicles yet, it is seen in industrial applications. R19 is available in natural color only (i.e. non-pigmented) and in two profiles, -04 and -08 (corner rod). The corner rod is ideal for doing fillet welds in sheet fabrication. The part numbers are: -04 profile (3/8" wide) - R19-04-03-NT and R19-04-04-NT; -08 profile (corner rod) - R19-08-03-NT and R19-08-04-NT.
R20 is a blend of polycarbonate and ABS (PC+ABS), a rigid plastic that is used on some automotive exterior panels and underhood support panels. Currently the only available profile is -01 (1/8" round rod) and the color is white. It is available in 30 ft and one-pound packs, part numbers are R20-01-03-WH and R20-01-04-WH.
Polyvance has the world's largest selection of plastic welding rod materials, profiles, and colors. With our products, you can repair more plastics, increase your labor profits, and keep damaged plastics out of the landfill.