Is this bumper made of thermoset urethane?
One way to tell if you are working with a thermoset urethane is to see if the plastic smokes and sizzles when you touch it with the tip of the (very hot) airless plastic welder. Also, if you will notice, thermoset urethane turns brown and sticky... even after it has cooled off. The heat is actually destroying the plastic.
Thermoplastic (plastic that will melt) bumpers (such as polypropylene and TPO) do not smoke and sizzle and, as you can see, does not turn brown and sticky. When a thermoplastic cools off, it is analagous to refreezing water to make ice. In other words, no destruction has occured when it was heated and then cooled.
By looking at the pictures below, you can see the difference between thermoset urethane and a thermoplastic. In the past, all urethane bumpers were easy to identify because they were yellow. However, the newer urethane bumpers are gray and look similar to the thermoplastics.
In the pictures below, the thermoset urethane bumper has a color that closely matches the color of the thermoplastic bumper. This has caused confusion as to the correct repair procedure.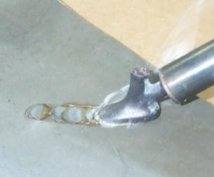 Thermoset urethane Notice the smoke and discoloration of the plastic when heated.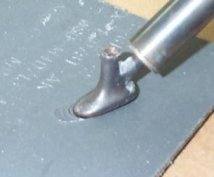 Thermoplastic Notice the lack of smoke and discoloration when heated.
car plastic welding polivance pp welding gun price urethane bumper nitrogen welder bumper repair