6059-C Nitro Fuzer Nitrogen Plastic Welder
Part No.:6059-C
Weight: 75.00 LB
Length: 32.00 IN
Height: 38.00 IN
Width: 16.00 IN
UPC: 694687004705
Accepted Payments:
Visa, MC, American Express, Discover, PayPal
This item has been discountinued. You cannot order this product. This item is no longer available. This item is presented for historical information purposes and technical support purposes only.
IMPORTANT NOTE: This model is outdated. Click here to see our current selection of nitrogen plastic welders.
Nitro-Fuzer Nitrogen Welding System for Plastic Repair
Polyvance's 6059-C Nitro Fuzer Welding System is the most advanced nitrogen plastic welding equipment available.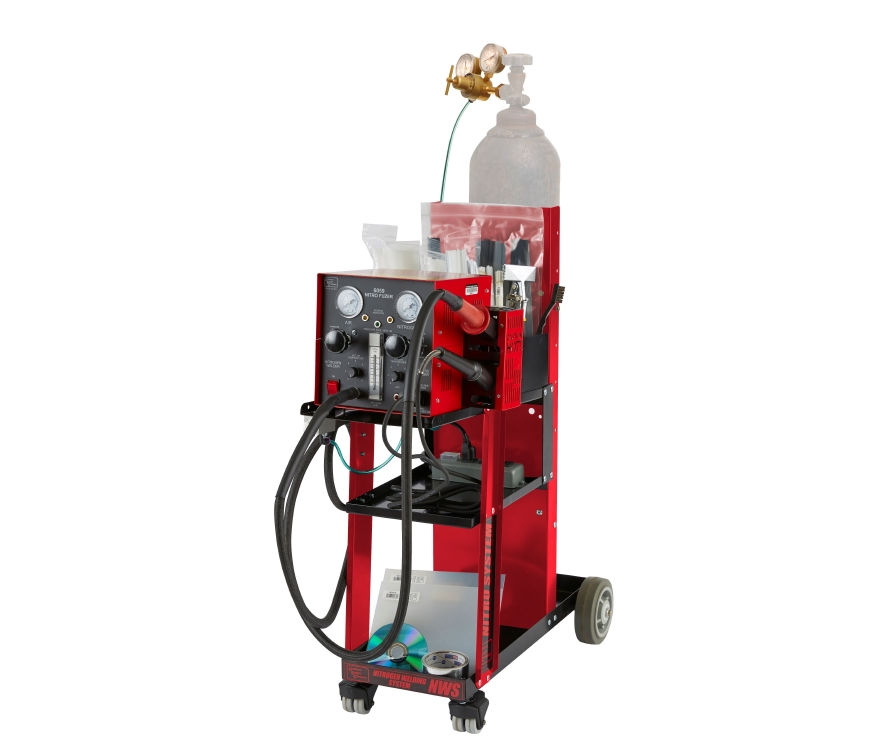 It comes with everything you need to get productive right away doing the fastest, strongest plastic repairs on virtually any type of plastic. Welding with nitrogen gas creates the strongest welds possible because it eliminates oxidation of the plastic during the welding process.
Features:
Holster switch provides automatic air to nitrogen switching. Remove the torch from the holster and you are using nitrogen. Replace the torch into the holster and now it is on air.
Analog flow gauge for repeatable performance every time.
Element protection circuitry to help prevent burning out heating elements.
Precision flow regulators on both the air and nitrogen sides.
Outlet pressure gauges for both air and nitrogen.
Compact, easy-to-handle welding torch gets into tight spots with no user fatigue.
Melt-proof silicone & fiberglass braided hot air welder hose.
Easy-to-use, intuitive controls.
Integrated airless welder control to allow for repair of thermoset PUR.
Easily replaceable heating element.
Heavy-duty, made-in-USA welding cart with built-in holders for heating elements and tools.
Air manifold with auxiliary outlet for attachment of air tools.
Integral power strip.
Benefits:
Make stronger repairs than with any other method.
Profit from repairing plastic rather than replacing it.
Make more profit by welding rather than using two-part adhesives.
Repair tabs, mounting holes, and slots that are impossible to repair with two-part adhesives.
Strength: Make repairs that are stronger than any two-part epoxy or hot air weld. Plastics are melted together with no oxidation to form the strongest possible plastic weld.
Speed: Complete repairs in a fraction of the time of two-part epoxies. Typical welding speeds are 4 inches (10 cm) to 6 inches (15 cm) per minute. No waiting for cure time. Cool with water, then sand, prime, and paint.
Versatility: Do repairs that are not possible with two-part epoxies: Mounting tabs (thick or thin), grille bars, high-stress areas, flexible tabs, and fender liners. Plus, it's not just for automobile plastics. It can be used on ATVs, boats, motorcycles, appliances, toys, etc.
Cost Savings: An average 6 inch (15 cm) repair costs less than $2.00. You pay that much just for the mixing tips when using two-part adhesives. The same adhesive repair can cost over $30.00!
Ease: Repairs are simple to do. Your techs already have the skill set; with the 6059-C Nitrogen Welding System, they have the tools.
Estimating Options: Gives you more ?exibility in the estimating process. Save totalled vehicles. Get an edge on the competition. A bargaining tool with insurance adjusters.
Keep Profits in Your Shop: No need to replace bumpers, headlights, and other plastic parts. Keep labor dollars in house!
Insurance Relations: Show you are on the side of cost savings while increasing your pro?ts at the same time. By making a QUALITY repair you become an ally of insurance adjusters, decrease cycle times, and help steer additional work to your shop.
Create Loyal Customers: 25% of a shop's business is customer-pay. Save customers money on small hits and they will return to your shop with the big hits.
Blend in the Panel: Repair the damage to the bumper and blend the color in the panel. Avoid the risks and costs involved in blending into the undamaged fenders.
Revolutionize the Repair Process: Just as polyester filler replaced lead, and the wire-fed welder replaced brazing, the nitrogen system will replace all other types of plastic repair.
Avoid Fit Issues: Why put on an aftermarket cover when you can easily repair the OEM part?
Plastic Use to Grow: The amount of plastic parts on cars will continue to grow. This means ever increasing repair opportunities in the future.
Factory Support: Plastic is what we do at Polyvance. For over 30 years we have been the leader in product development and problem solving in the plastic repair industry. We have the proven products you need from start to ?nish. Plastic repair doesn't have to be difficult!
Testimonials:
"We fix a lot of Benzes and Audis. This thing paid for itself in about a week! I keep scrap bumpers to the side and splice in parts that I need. When a CLS AMG bumper costs $2,200, it's worth taking the time. It does a beautiful job. I wouldn't work in a shop that didn't have a Polyvance nitrogen welder!"
Joe
Advanced Automotive
East Boston, MA
(617-561-1111
"Coolest tool I've seen in years! It's been a long time since I've been this excited about a new tool. It works the way its supposed to work."
Garrick Fulbright
Dick's Collision Center
205 SE 3rd Ave
Hillsboro, OR 97123
(503) 693-0702
Included Contents:
Image
Part No.
Description
6031
Tear Drop Airless Welding Tip
6027HT
Standard Airless Welding Tip
5010-2
10 inch (25 cm) x 10 inch (25 cm) x 3/32 inch (2.4 mm) Polypropyelene sheet
6124WB
Stainless Steel Wire Brush
6482
Aluminum Tape, 2 inch (5 cm) x 10 yards (9.1 m)
6145
Hand Seamer Tool
6063
Nitrogen Regulator
DVD-02
Nitrogen Welding and Plastic Repair DVD
R01-01-03-NT

Polyurethane Welding Rod - 1/8th inch (3 mm) diameter.

(15 foot (4.6 m) starter roll included with welder.)

R02-01-03-BK

Black Polypropylene Welding Rod - 12 inch (30 cm) x 1/8th inch (3 mm).

(10 foot (3 m) starter pack included with welder.)

R02-04-03-BK

Polypropylene, 3/8" x 1/16", 30 ft., Black

(10 foot (3 m) starter pack included with welder.)

R02-05-03-BK

Polypropylene, 5/8" x 1/16", 30 ft., Black

(5 foot (1.5 m) starter pack included with welder.)

R02-01-03-NT

Polypropylene, 1/8" diameter, 30 ft., Natural.

(15 foot (4.6 m) starter pack included with welder.)

R02-04-03-NT
Polypropylene, 3/8" x 1/16", 30 ft., Natural.
R02-05-04-NT
Polypropylene, 5/8" x 1/16", 30 ft., Natural
R03-01-03-WH

White ABS Welding Rod - 12 inch (30 cm) x 1/8th inch (3 mm)

(15 foot (4.6 m) starter pack included with welder.)

R04-01-03-NT

Natural Polyethylene Welding Rod - 12 inch (30 cm) x 1/8th inch (3 mm)

(15 foot (4.6 m) starter pack included with welder.)

R05-01-03-GY

Gray TPO Plastic Welding Rod - 12 inch (30 cm) x 1/8th inch (3 mm)

(10 foot (3 m) starter pack included with welder.)

R05-04-03-GY

TPO, 3/8" x 1/16", 30 ft., Gray

(10 foot (3 m) starter pack included with welder.)

R05-05-03-GY

TPO, 3/4 in. X 1/16 in., 30 ft., Gray

(5 foot (1.5 m) starter pack included with welder.)

R06-01-03-NT

Nylon Welding Rod - 1/8th inch (3 mm) diameter

(15 foot (4.6 m) starter pack included with welder.)

R07-01-03-NT

Polycarbonate Welding Rod - 1/8th inch (3 mm) diameter

(4 foot (1.2 m) starter pack included with welder.)
RELATED PAGES