8002 Nitro-Fuzer Nitrogen Plastic Welder
$2195
Part No.:8002
Weight: 65.00 LB
Length: 38.00 IN
Height: 42.00 IN
Width: 19.00 IN
UPC: 694687006129
Accepted Payments:
Visa, MC, American Express, Discover, PayPal
8002 Nitro-Fuzer® Plastic Welding System
The 8002 Nitro-Fuzer® plastic welding system combines a simplified analog nitrogen welder with a traditional airless plastic welder. By combining these welders into one package, it allows you to make nitrogen welds economically to virtually any automotive plastic.
This Nitro-Fuzer® is designed to be used with compressed air and a nitrogen bottle to make the strongest possible welds. If you want continuous nitrogen without the hassle of changing the nitrogen tank, consider getting the 8003 or 8203 welders as they have nitrogen generators.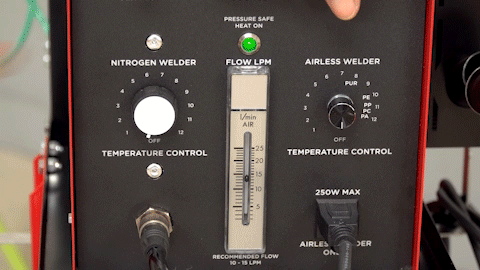 Analog Flow Gauge With Low-Flow Cutoff Protection
Unlike some competitive products, the 8002 features precision flow control so the user can match the flow and temperature to substrate types and thicknesses. The flow and temperature can be reduced to a very low point in order to weld thin, fragile substrates, something others cannot do. When welding very thick substrates, the temperature and flow can be increased greatly to allow more heat to be transferred to the weld. The analog flow gauge gives the welder a repeatable reference over how much gas is used in the welding process. To extend heating element lifespan, a low-pressure safety switch is incorporated into the system, shutting off the power to the heating element if the air flow drops below a safe level.
The integrated airless welder is ideal for smoothing out welds, and it is essential for repairing thermoset polyurethane.
In order to reduce the cost of the 8002, the welder and cart will be shipped in two separate boxes. The welder is fully assembled and ready to go, but the cart will have to be assembled. We have detailed instructions in the box, as well as a video, to help you assemble the cart. The Welding Cart Assembly instructions, Setup and Use video, and Quick-Start Guide can be found below. The 8002 is packaged with one welding rod organizer case filled with a selection of welding rods, a hand seamer, and aluminum tape. It is covered by a two-year "bumper-to-bumper" warranty covering all parts except the heating elements and misuse.
Features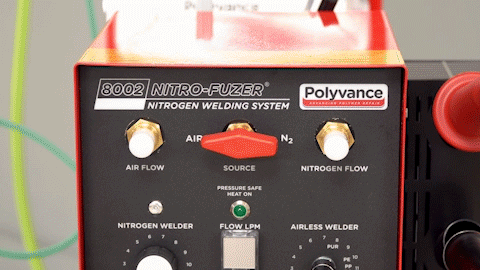 Manual Air-to-Nitrogen Switching
Manual air-to-nitrogen switching
Flow gauge for repeatability
Automatic low-flow safety switch
Precision flow control
Compact, easy-to-handle welding torch gets into tight spots with no user fatigue
Quick-change hose and handle assembly.
Integrated airless welder control to allow for repair of thermoset PUR
Easily replaceable heating elements
Heavy-duty, made-in-USA enclosure for maximum durability
Heavy-duty welding cart (assembly required)
Benefits
Speed: Complete repairs in a fraction of the time of 2-part adhesives. Weld 4 to 6 inches per minute, then immediately finish, prime, and paint. No waiting for adhesives to cure.
Versatility: Do repairs that are not possible with adhesives. Mounting tabs (thick or thin), grille bars, high-stress areas, flexible tabs, and fender liners. Not just for automobile plastics.
Cost Savings: An average 6 inch repair costs less than $2.00 when welded. With a 2-part adhesive, you pay more than that just for the mixing tip! The total cost of the same size adhesive repair can be over $40.00!
Ease: Repairs are simple to do. Your techs already have the skill set, with this they have the tools.
Estimating Options: Gives you more flexibility in the estimating process. Save total losses. Get an edge on the competition. A bargaining tool with insurance adjusters.
Keep Profits in Your Shop: No need to replace bumpers, headlights, and other plastic parts. Keep the labor dollars in-house.
Blend in the Panel: Repair the damage to the bumper and blend the color in the panel. Avoid the risks and costs involved with blending into the undamaged fenders.
Insurance Relations:Show you are on the side of cost savings while increasing your profits at the same time. Do a QUALITY repair, become an ally of the adjuster, lower cycle times, and help drive additional work to your shop.
Create Loyal Customers: 25% of a shop's business is customer pay. Save them money on the small hits and they will return to your shop with the big hits.
Avoid Fit Issues: Why install an aftermarket cover when you can easily repair the OE?
Plastic Use to Grow: The amount of plastic parts on cars will continue to grow. This means more repair opportunities.
Factory Support: Plastic is what we do at Polyvance. For over 30 years we have been the leader in product development and problem solving. We have the proven products you need from start to finish. Plastic repair doesn't have to be difficult.
Videos
Video: 8002 Nitro-Fuzer® Setup and Use
Video: Introducing the 8000 Series Nitro-Fuzer® Welders
Video: How to Install the 6102 Hose and Handle Assembly
INCLUDED Contents
Image
Part Description
More info
5003-01 Welding Rod Organizer Case

Keeps your plastic welding rod organized.
6012-P

Airless welder
6027HT

Tube welding tip
6031

Flat tear drop welding tip
6050-NR1

Standard hot air welding tip
6056-07

Nitrogen bottle regulator
6124WB

Stainless steel tip cleaning brush - Use this to clean the tip of the airless welder.
6056-08

Welding cart
R01-01-03-NT

Urethane welding rod, 1/8 in. (3 mm) diameter, 15 feet (9 m), natural
R02-01-03-NT

Polypropylene, 1/8 in. (3 mm) diameter, 15 feet (9 m), natural
R02-04-03-NT

Polypropylene, 3/8 in. (9.5 mm) X 1/16 in. (1.6 mm), 15 feet (9 m), natural
R02-05-03-NT

Polypropylene, 5/8 in. (15.9 mm) X 1/16 in. (1.6 mm), 15 feet (9 m), natural
R02-07-03-NT

Polypropylene, 16/64 in. (5 mm) X 1/16 in. (1.6 mm), 15 feet (9 m), natural
R02-08-03-NT

Polypropylene corner rod, 1/4 in. (6 mm) X 1/4 in. (6 mm), 15 feet (9 m), natural
R03-01-03-WH

ABS, 1/8 in. (3 mm) dia., 15 feet (9 m), white
R04-01-03-NT

Polyethylene (LDPE), 1/8 in. (3 mm) dia., 15 feet (9 m), natural
R05-01-03-GY

TPO, 1/8 in. (3 mm) dia., 15 feet (9 m), gray
R06-01-03-NT

Nylon, 1/8 in. (3 mm) dia., 15 feet (9 m), natural
R07-01-03-NT

Polycarbonate, 1/8 in. (3 mm) dia., 4 feet (1.2 m), natural
High Resolution Image (opens in a new tab/window)
hot air torch plastic welding gun URE8002 POL8002 nitro plastic welder nitro innovations URA8002 694687006129 B07XZLSNFL sku 8002 UR8002 POL8002 URT8002 URT-8002 PLY8002 POL 8002 US-8002 nitro fuser 8002 PV8002 UPC694687006129 URE-8002

RELATED PAGES
Products related to 8002 Nitro-Fuzer Nitrogen Plastic Welder :
6074 Nitro Fuzer Accessory Shelf Polyvance&
$61.95
Nitrogen Plastic Welder Cart Cover Protect
$54.95
Polyvance's 6040 Whip Hose can save plastic repa
$109.95