Polyvance 2019 Recap
December 09, 2019 by Polyvance
Polyvance 2019 Recap
As 2019 comes to a close, we want to remind everyone of all of the new products we launched and changes we made this year. This is a great way to catch up on anything you may have missed! You can also scroll through our Blog to see anything you may have missed. We've done some interesting repairs for customers recently.
Please note that we will be closed for the holidays December 23-27 and again on January 01.
New Launches:
Polyvance Smartphone App – At the beginning of the year, we launched the Polyvance app. Our app has a simple design that will allow you to quickly find the information you need, with four main sections: Plastics Identification, Standard Operating Procedures, Videos, and Welder Companion. The Polyvance app is compatible with Apple (iOS 10.0 or newer) and Android (4.4 or newer) devices. The app may be downloaded for free from the Apple App Store or the Google Play Store.
Kenworth W900 Hood Repair Kits – After launching our successful Kenworth T800 kit, we began receiving requests for a kit for W900 hoods. Kenworth W900 trucks can have either "square" or "round" hood pockets. We took on the challenge and created a repair kit for each of them. The part numbers are KENW900S for square pockets and KENW900R for round pockets. The repair kits each come with one pair of custom-cast aluminum hood pocket reinforcement plugs, one pair of steel reinforcement plates, two packages of PlastiFix High-Performance methacrylate adhesive, and all of the required nuts, bolts, rivets, washers, and screws to perform the repair.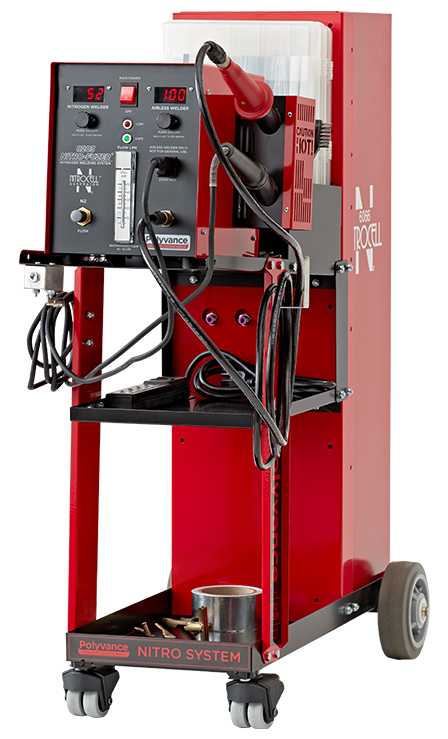 8000-Series Nitro-Fuzer® Nitrogen Plastic Welders – In August, we released our new "8000 Series" of nitrogen plastic welders, which offer an option for every shop and every budget. This line of eight welders include two families: digital controls and analog controls. Each has a version that uses a nitrogen tank or comes with a nitrogen generator. The digital models come completely assembled and ready to go; the analog versions will require some assembly. The new welders incorporate patent-pending new technology created by Polyvance to make the welders easier to maintain and use. All welders feature automatic low-flow power cutoff protection, precision flow valves to allow the user to adjust the flow to suit the thickness of the plastic, and a direct-reading flow gauge for repeatable performance. These welders do not come with free courtesy training, but Polyvance offers plenty of ways to get familiar with plastic repair: with our online video training library, the Polyvance mobile app, and telephone technical support. Polyvance's paid training options are also available for those shops that want hands-on, instructor-led training, and these would include I-CAR credits thanks to Polyvance's status as an I-CAR Sustaining Partner.
New Welding Rod Materials – We now carry 20 different types of welding rod material, thanks to the release of our R18, R19, and R20 welding rods. R18 is a polypropylene reinforced with 15% long glass fiber. This material is now used on some radiator supports and other support components. R19 is a high-density polyethylene reinforced with 15% long glass fiber. Although we haven't seen it used on passenger vehicles yet, it is seen in industrial applications. R20 is a blend of polycarbonate and ABS (PC+ABS), a rigid plastic that is used on some automotive exterior panels and underhood support panels.
6076 Bumper Stabilizer – This new product was on display at SEMA this year. The Bumper Stabilizer is designed to help support today's large, complex, multi-piece bumpers to simplify repair and assembly operations. The Bumper Stabilizer attaches easily to one of your shop's existing scissor stands, providing multiple adjustable anchor points overhead to precisely support fragile bumper components. Multiple components can be held closely in position, allowing one technician to confidently assemble them without help and without fear of dropping a freshly painted fascia.
Important Updates and Changes:
Bumper & Cladding Coat Adhesion Primer – This year we updated the product webpages for our Bumper & Cladding Coat Adhesion Primer, the industry's most popular raw bumper adhesion primer. We also created a new video that shows the benefits of Bumper & Cladding Adhesion Primer and its application process. The video proves that the adhesion is so good, you can't blast it off with a pressure washer! This product is available in original formula and a low VOC version.
6066 Nitrocell Nitrogen Generator – We reduced the price of our Nitrocell nitrogen generator cabinet to $2,495 (MSRP). The lower price makes it more compelling for you to take advantage of the benefits of having a constant, reliable source of nitrogen gas for your plastic welder. If you have one of our old nitrogen plastic welders and are currently using a nitrogen tank, you can use the 6066 to easily convert your welder to a nitrogen generator system. The 6066 Nitrocell drops right into the place where the nitrogen tank sits.
Flextex Variable Texture Material – This year, we discontinued the 3803 regular formula Flextex VT. But don't worry, we still have our 3804 Flextex VT Low VOC! Because it is low VOC, it can be used in all 50 States and Canada. Use the 3404R-4 Flextex VT Low VOC Reducer to stay within low VOC compliance. If you don't have to worry about low VOCs, you can reduce it with lacquer thinner.
Temperature Setting Suggestion Charts – After we released our R18, R19, and R20 welding rods, we updated our Temperature Setting Suggestions chart to include the new rod. There is one chart for digital welders and one chart for analog welders.
Updated Representative Territories – We have five Polyvance representatives that cover the United States. Their names and contact information can be found below. Any jobbers that are interested in working with our representatives, or any shops that would like a welder demonstration, please reach out to them.
Southwest representative: Jose Heded - 310-844-2023 | jhusc0546@gmail.com.
Jose covers these states: WA, OR, CA, NV, UT, AZ, NM
Upper Midwest representative: Greg Borst - 920-204-4154 | greg.borst.usc@gmail.com.
Greg covers these states: ND, SD, MN, WI, IA, MO, IL, IN, MI, OH
Northeast representative: Mike Koren - 732-580-7921 | mkoren0423@gmail.com.
Mike covers these states: ME, VT, NH, MA, RI, CT, NY, PA, NJ, DE, MD, VA, WV
Polyvance main office representatives: John Wilburn and Leon Roberts.
They cover these states: MT, ID, WY, CO, NE, KS, OK, TX, AR, LA, MS, AL, TN, KY, NC, SC, GA, FL
Contact Kurt Lammon at 800-633-3047 or kurt@polyvance.com to have John or Leon come to your area.
Updated Catalog, Price Lists, and Book of Plastic Repair – We have ditched our yearly catalogs and are now releasing them as volumes. Our Volume 38 Catalog includes all our new releases from this year. The catalog and 2020 Price Lists are available to send out now. Additionally, we have updated "The Book of Plastic Repair." Contact us if you want printed or digital copies of any of the above.
Training – As a reminder, our new 8000-series nitrogen plastic welders do not come with free courtesy training. However, we have several paid hands-on and online training options. We have recently updated all of our training flyers, which can be seen on our website. We have three hands-on courses (the PR-01, PR-02, and PR-04) and two online courses (PR-03 and EPR-01). You can receive I-CAR credits for these courses at no additional cost (valid only in the United States) because Polyvance is an I-CAR Sustaining Partner.
New Videos:
Polyurethane Repair on a Firebird Ground Effect - This video demonstrates a repair on a 1979 Firebird front ground effect that has a four-inch crack and a broken tab. Because the ground effect is made of thermoset polyurethane, it cannot be melted (meaning it cannot be fusion welded with the nitrogen welder). We use an airless plastic welder and thermoplastic urethane to make an adhesive weld.
Bumper & Cladding Coat™ Adhesion Primer – This video explains the benefits of our Bumper & Cladding Coat™ Adhesion Primer and shows the application process. It ends with a pressure washer test to show just how good the adhesion is.
Bass Boat Dash Panel Repair - Rigid, brittle plastics, like ABS and polycarbonate, are often found on motorcycles, boats, and vehicle interior panels. Sometimes replacement parts are expensive or difficult to find, and in some cases, they may not be available at all. However, these types of plastics can be repaired, allowing you to keep the original part. This video shows you how to repair cracks and holes in ABS plastic using Polyvance's PlastiFix rigid repair kit. PlastiFix is a methacrylate monomer adhesive system that allows you to repair cracks, fill gaps, and fabricate missing pieces on rigid plastics. This new video features a 2005 Stratos bass boat dash panel with several cracks and holes.
How to Repair Cross-Linked Polyethylene - Cross-linked polyethylene is not very common, but it is sometimes used for fuel tanks, kayaks, canoes, and older ATV parts. It is an extremely durable plastic, and unfortunately, it is not easily repaired. Cross-linked polyethylene is a thermoset plastic, which means it is not meltable. Because cross-linked polyethylene is not meltable, a nitrogen plastic welder or airless plastic welder cannot be used to create a fusion weld. Instead, an airless plastic welder and thermoplastic polyethylene welding rod will be used to make a bonded repair. The video demonstrates a repair of a puncture, a crack, and a hole in an XLPE fuel tank. The repair is made by using Polyvance's KCWPRO airless plastic welder and low density polyethylene welding rod.
8000-Series Nitrogen Plastic Welders – When we released our new line of welders, we put out a short, informative announcement video. We have also created setup and use videos for all 8 welders in the series. When you receive a welder from us, scan the QR code on the box to be taken to the setup and use video for your welder. Our 8000-Series playlist can be found on YouTube.
Steering Wheel Restoration – This steering wheel from the 1960's developed several cracks that left large gaps in the plastic. These cracked steering wheels are very common in cars from the 1950's and 1960's. The plastic that was used to make these steering wheels is a very rigid plastic. Polyvance's PlastiFix kit works great on the rigid plastics that were used to make these steering wheels. This video demonstrates how to use Polyvance's PlastiFix repair kit to restore cracked classic steering wheels.
Bumper Stabilizer – Our Bumper Stabilizer promo video demonstrates how the product can be used on a variety of large, multi-piece bumpers. In the video, the stabilizer is used on a two-piece bumper, a three-piece bumper, and a large bumper with a grille. We have also uploaded an assembly video so you can follow along and set up your stabilizer with no issues.
Thank you all for a great 2019! We're looking forward to providing more innovations in plastic repair in the new year.